Why Coeur d'Alene, Idaho?
Posted by Adriana Pickard on Wednesday, October 19, 2022 at 8:07:52 AM
By Adriana Pickard / October 19, 2022
Comment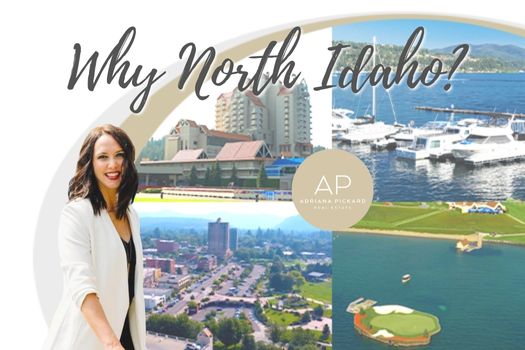 So, I often get asked, "Why North Idaho?". I never could narrow it down to one thing, so I wanted to take you guys on a quick tour of the area.
One of the really cool areas and neighborhoods here in Coeur d'Alene is actually the Sanders Beach area. Sanders Beach is located between Tubbs Hill and the iconic Floating Green —which is over at the Coeur d'Alene Resort.
Meanwhile in downtown Coeur d'Alene, you will find some amazing art galleries, super cool shops, breweries, and amazing restaurants.
We also have our amazing lake where there is so much offered here! There are cruises where you can do dinner cruises or brunch cruises on Sundays. There are also parasailing tours, seaplane tours, boating, paddle boating, and kayaking.
You can also enjoy your stay at the beautiful resort here in Coeur d'Alene where you can have amazing accommodations, a wonderful dinner at Beverly's overlooking the lake, or craft cocktails at Whispers. You can also use their spa which is just an awesome accommodation!
If you need to get outdoors, there is also Tubbs Hill where you can go for a short hike.
On the other hand, in midtown at Fourth Street, there are some really cool little shopping areas and amazing restaurants.
If you guys have any questions about the area, don't hesitate to reach out!